Hello from the CEO
Hello! This is an exciting time to be working in primary care and pediatric practices. As the economy rebounds, opportunities continue to emerge for physicians who want to make the necessary changes in their practices to become successful and profitable. That desire is at the core of Hello Health's mission. We work with doctors who want to improve the financial health of their practices. As we add more practices to the Hello Health family, we learn more about what you're facing in your daily work. All of our upgrades, new versions, platform additions and programs are aligned to increase efficiency and revenue for the physicians who use Hello Health.
In this newsletter, you'll hear about trends and challenges in primary care and pediatric practices across the nation and the Hello Health solutions that will rise to meet them. I hope you feel empowered by the advances being made. In particular, we believe the Credit Card on File program mentioned below will position our customers to make real, game-changing strides toward financial success. I truly feel that we're laying the groundwork for a renaissance in independent medical practice and that our vision – that independent physicians can practice the way they want and achieve ongoing profitability – can soon be achieved.
Our account managers and support team are here for you. Please don't hesitate to communicate your needs and suggestions for the Hello Health platform.

Nathanial Findlay
C.E.O. Hello Health, Inc.
---
Best Practices
Congratulations to Hello Health's Top 3 Practices of July 2013! These practices are making the most of the revenue-producing opportunities Hello Health provides, such as: enrolling patients in PortalConnect, successfully instituting a Credit Card on File (CCOF) policy, and using our platform to create cost-saving efficiencies in their offices.
Elizabeth Yang, M.D., P.A., Houston, TX
Family Medical Group of Manhattan, New York, NY
Lawrenceville Pediatrics, Lawrenceville, GA
How DO they do it?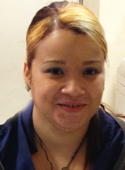 We have made it an office policy to have each patient sign on to the 30 Day-trial. In addition, we have been working as a team to encourage patients to keep their membership in PortalConnect. They love the service and its amenities. As weeks go by, patients come in and go straight to the iPad without hesitating.
— Jazmine Lora, Family Medical Group of Manhattan
---
Tips & Tricks

The Sticky Note feature allows providers and staff to document non-clinical personal notes and reminders about a patient.

CDC Immunization Schedules can be accessed from the Patient Record.

The Patient Panel screen allows searching using patient phone numbers.
---
Say HELLO to:

Barbara Jensen
Client Support Manager
What do you enjoy about a typical day on the job?
Each day, I have the opportunity to enrich the experiences of our customers, by listening to them and finding additional ways for Hello Health to add value to their practice.

I wish every one of our clients could spend a day in our office, to see the wonderful work behind the scenes at Hello Health! There is plenty of creative energy flying as we endeavor to meet customer needs, resolve problems and deliver a high quality product.
Do you have a professional hero?
My professional inspiration is Kris Carr, wellness advocate, author and cancer survivor. She transformed what could have been a devastating situation into a successful business empire and an opportunity to truly improve quality of life for many people.
Tell us something that not many people know about you.
I love to travel, but you'll never find me at an all-inclusive resort. I have spent a fair bit of time overseas doing humanitarian work over the past decade, including teaching English in China, working in children's homes in Tibet and building a medical clinic in a remote area of Nepal. Last month, I was able to spend a few weeks in Tanzania, where I sat in on basic medical education classes offered to young girls from the Massai tribe.
---
Hello Health News

Credit Card on File Program Rolls Out
Hello Health is blazing trails again! We've launched a new initiative to stay ahead of an emerging trend in independent medical practices – the Credit Card on File (CCOF) policy. As part of the new iPad interface, patients are now required to place a valid credit card on file with your practice, guaranteeing payment for services rendered or past-due balances. Your account manager will provide you with materials to explain this policy to your patients.
As we help you establish a CCOF policy for your practice, we will familiarize you with the ease of charging cards through the Hello Health platform. Practices whose CCOF programs are already live have reported success in easily collecting balances that otherwise would linger.
Simply put, we want you to more easily be able to collect what is owed to your practice. Medical specialists around the country are instituting CCOF policies, just as professionals in other industries – airlines, hotels, online retailers – have been doing for many years. As part of the CCOF registration, your patients will be automatically enrolled in the 30-Day Trial of PortalConnect. Please don't hesitate to reach out to your account manager with any questions.

Hello Health Inc. Launches Version 6.1 with New Pediatrics Functionality
Hello Health Version 6.1 contains more than 90 pre-built sick and well-visit templates, immunization tracking capabilities, growth charts that support national guidelines from the Centers for Disease Control and Prevention (CDC), and other tools and features to meet the specific needs of pediatrics practices.

Catch the replay: The New Business of Healthcare, Webinar rebroadcast
As more and more physicians appear to be moving toward employment with hospital systems, will independent medical practice soon be a thing of the past? Accenture conducted its 2012 Physician Alignment Survey to explore the myths and truths surrounding the independent doctor. Hello Health's recent webinar reviews Accenture's findings, and discusses the strategies that some physicians are currently using to retain their independence. Topics covered include:
Demise of the independent doctor: hype or reality?
Physician employment trends today
New business models for a new era in healthcare
Key drivers for the future

Hey! Get your mini-MBA!
This fall, Hello Health will launch the Mini-MBA webinar series, featuring expert healthcare industry speakers. Dates will be announced soon, so stay tuned for:
Marketing Your Practice: The Importance of Building Your Personal Brand, Speaker: Chris Colbert, Holland Mark
How to Write a Business Plan, Speaker: Christopher Kunney, the BAE Company
How to Manage your Financials, Speaker: Jeff Noonan, Alvarez & Marsal
---
Industry News

New ONC2014 Certification Mark Announced
A new mark for certified electronic health records (EHR) technology was unveiled by the HHS Office of the National Coordinator for Health Information Technology (ONC). The mark will appear on EHR products that have been certified by an ONC-Authorized Certification Body (ONC-ACB) and will indicate that the product meets the 2014 Edition Standards and Certification Criteria. Via HiTech Answers.

CMS Data Links EHRs to Patient Safety, Empowerment
The Centers for Medicare & Medicaid Services has released data that shows healthcare providers have used electronic health record (EHRs) to provide information securely to patients, empowering them while managing their care and reducing medical errors. CMS revealed that more than 190 million electronic prescriptions have been sent by doctors, physician's assistants and other health care providers using EHRs. Via Health Informatics.
---
Get Social
Are you linked up with Hello Health's social media outlets? Find us at twitter.com/hellohealth and facebook.com/hellohealthprofessionals for the very latest news and announcements.
In case you missed it:

Independent Medical Practices: What does the Future Hold? http://t.co/0ZtmPmnVM2

— Hello Health (@hellohealth) July 19, 2013

#EHR Incentive Program Status Report – June http://t.co/66BFDJpzy8 via @hitechanswers

— Hello Health (@hellohealth) July 19, 2013

Patient portals: More than meets the eye | Healthcare IT News

Despite many healthcare organizations employing patient portals, the portal remains an underutilized resource. This low...

— Hello Health for Health Professionals July 18, 2013

Access your medical records online by using the Blue Button | Patients & Families | http://t.co/BeVy6pzzQD http://t.co/DEYMgrQx2E

— Hello Health (@hellohealth) July 22, 2013